Clean, On-Time Bounce House Delivery Right To Your Back Yard!
The Jump Around Is Your #1 Source For Party Rentals In Boise, ID!
When it comes to bounce house rentals in Boise, The Jump Around truly stands out! We're not just another rental service; we're a locally owned and operated family business that's deeply invested in our community. Our commitment to providing clean, top-quality event rentals is unparalleled.
We understand that the success of your event hinges on timely delivery, and that's why punctuality isn't just a promise, it's a guarantee. We don't just bring the bounce house to your backyard, we bring fun, excitement and, most importantly, reliability. So, for your next event, make the smart choice – choose The Jump Around, because nobody does event rentals quite like we do! ​
A Variety Of Options To Suit Your Needs
At The Jump Around, we pride ourselves on offering a wide range of options for your convenience. We have everything from traditional bounce houses to giant water slides. Whether you're hosting a backyard birthday party or a large community event, we have the perfect rental to make it an unforgettable experience.
Our rentals are available for full-day or overnight use, so you can choose the option that fits your schedule and budget. We also offer package deals to help you save even more on your event rentals. Whatever your needs may be, we've got you covered! ​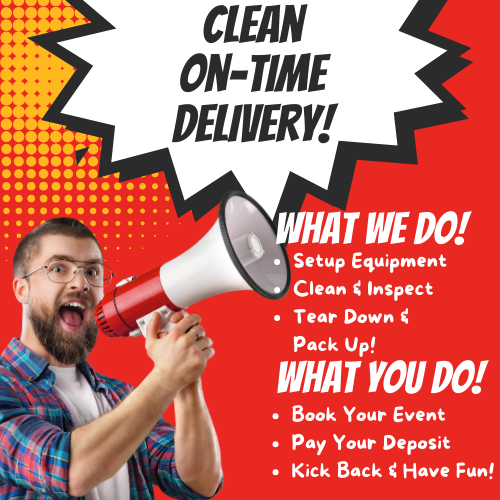 Safety First With The Jump Around
We understand that safety is a top priority when it comes to event rentals. That's why we go above and beyond to ensure that all of our rentals are properly cleaned, sanitized, and inspected before each use.
Our team is trained to set up and take down the rentals with care, making sure everything is secure and safe for your guests. We also provide safety guidelines for each rental, so you can have peace of mind knowing your event will be both fun and safe. ​
Book Your Bounce House Rental Today! ​
Don't wait until the last minute to book your bounce house rental with The Jump Around. Our rentals are in high demand, especially during peak event season.
Contact us today to reserve your rental and rest easy knowing that your upcoming event will be a success. We can't wait to help you create unforgettable memories with our top-notch event rentals. So why wait? Let's get the party started! ​
Jennifer Turley
2023-10-09
We had such a great experience with The Jump Around! We h hired them for my daughter's 4th birthday and everything went so smoothly! Their communication was great as they would send text updates regarding when they'd be dropping off and picking up, their bounce house was so clean, and the staff is so nice! Definitely will be hiring them for future events!
Prompt, good communication, reasonable prices. The kids at our event loved the bounce houses!
Karah Armstrong
2023-09-18
Bounce house was clean & staff was friendly. They even delivered our bounce house early with no extra charge. This was my second time renting through them. 😊
MissBobbie Howard
2023-09-18
What a blast!! We have NEVER had a family gathering where all the kids just exhausted themselves having so much fun!! The set up was early and they came when needed to take down. We had a family reunion and couldn't have spent better money!! Thank you so much!!
Ashlee Hope-Sarver
2023-09-12
This company was accommodating from the beginning!! They helped me choose what would work best!! They dropped promptly and before it was due and picked up exactly when they said. They were kind and quick for set up and take down. Hands down the best! We will use them for our lifetime!!
Great local company. On time, professional, clean slides and jump houses and they are very helpful. Simple reservation process.. Definitely will be my go to company for all of our parties.
The Bounce House Slide was a complete hit with the kids. Made for a memorable birthday party for our granddaughter!
Fantastic! The kids had a blast and the Jump Around staff were very professional.
Trust The Jump Around For Your Next Event
When it comes to bounce house rentals and event rentals, nobody does it better than The Jump Around. With our commitment to clean, reliable, and high-quality rentals, you can trust us to make your event a hit.
Plus, as a locally owned and operated business, we take pride in serving our community and making sure every customer is satisfied with our services. So don't just settle for any rental service – choose The Jump Around and experience the difference for yourself! ​
Ready to make your next event one to remember? Contact us today and let's start planning!
The Jump Around Service Area:
"We understand that the success of your event hinges on timely delivery, and that's why punctuality isn't just a promise, it's a guarantee."
Is your event outside of our listed area? Contact Us below as we frequently deliver to events farther out and sometimes special accommodations can be made.
NOTE: Extra fees may vary depending on how far you are outside our service area.