Make Your Event A Hit With The Best Bounce House Rentals In Caldwell!
Bring Joy to Your Party With Your Favorite Caldwell Bounce House Rentals!
Welcome to The Jump Around, your one-stop-shop for all things fun in Caldwell! As a family-owned and operated business, we specialize in party and event rentals that can bring your celebrations to life. We believe no party is complete without a bouncy house – and that's where we come in. With a wide variety of bounce house rentals In Caldwell, ID  to choose from, we guarantee we have the perfect inflatable castle to keep your guests (both young and old) entertained for hours. So why wait? Start planning your unforgettable event in Caldwell, ID with The Jump Around today!
See What Your Nampa Neighbors Have To Say About Us!
Jennifer Turley
2023-10-09
We had such a great experience with The Jump Around! We h hired them for my daughter's 4th birthday and everything went so smoothly! Their communication was great as they would send text updates regarding when they'd be dropping off and picking up, their bounce house was so clean, and the staff is so nice! Definitely will be hiring them for future events!
Prompt, good communication, reasonable prices. The kids at our event loved the bounce houses!
Karah Armstrong
2023-09-18
Bounce house was clean & staff was friendly. They even delivered our bounce house early with no extra charge. This was my second time renting through them. 😊
MissBobbie Howard
2023-09-18
What a blast!! We have NEVER had a family gathering where all the kids just exhausted themselves having so much fun!! The set up was early and they came when needed to take down. We had a family reunion and couldn't have spent better money!! Thank you so much!!
Ashlee Hope-Sarver
2023-09-12
This company was accommodating from the beginning!! They helped me choose what would work best!! They dropped promptly and before it was due and picked up exactly when they said. They were kind and quick for set up and take down. Hands down the best! We will use them for our lifetime!!
Great local company. On time, professional, clean slides and jump houses and they are very helpful. Simple reservation process.. Definitely will be my go to company for all of our parties.
The Bounce House Slide was a complete hit with the kids. Made for a memorable birthday party for our granddaughter!
Fantastic! The kids had a blast and the Jump Around staff were very professional.
Your Source For Party & Event Rentals In Caldwell, ID
Select A Category Below & See Everything We Have Available For Your Date!
Experience Unmatched Fun with Our Bounce House Rentals!
When it comes to bounce house rentals in Caldwell, we know a thing or two about fun. Our impressive inventory features a variety of sizes, shapes, and themes – from colorful castles to exciting obstacle courses. Whether you're planning a kid's birthday party, a family reunion, or a community event, our reliable and affordable services never fail to bring smiles and laughter.
Safety is our top priority at The Jump Around. All our bounce houses undergo thorough cleaning and safety checks to ensure a secure and hygienic play environment. Our dedicated team handles the delivery, setup, and takedown, so you can focus on enjoying the event stress-free. We're not just about bounce houses, though! We also offer a wide range of party and event rentals, including tables, chairs, and party tents to complete your event setup.
Choosing The Jump Around means choosing a hassle-free, fun-filled event. We pride ourselves on our friendly and professional customer service that's always ready to help. So, if you're in the market for Caldwell bounce house rentals and more, look no further. Let's jumpstart your party with the excitement and joy that only The Jump Around can provide!
Make Your Party Memorable with Caldwell's Premier Event Rentals
Looking to throw the ultimate bash this season? Our top-notch party and event rentals in Caldwell have got you covered. We don't just offer the best bounce houses in town. We also provide a range of rental equipment to make your event a hit. From comfortable chairs and spacious tables, to party tents that can accommodate groups of all sizes, we've got the essentials you need to host a memorable gathering. Plus, our convenient delivery, set-up, and takedown services mean you can sit back, relax, and enjoy the party!
We understand that every event is unique. That's why our team at The Jump Around works closely with you to customize the perfect package for your needs. We'll be there every step of the way, from helping you choose the right bounce house to arranging the best layout for your event space. You can count on us to go the extra mile to make your event truly special.
The Jump Around is all about creating unforgettable memories. Our range of Caldwell bounce house rentals and party equipment brings together families, friends, and communities in the spirit of fun and celebration. So, whether it's a birthday bash, a community fair, or a corporate event, partner with us to deliver an unforgettable experience. After all, a party with The Jump Around is not just an event – it's the highlight of your year!
Inflatable Slide Bounce House Rentals
Experience the thrill and excitement of our Inflatable Slide Bounce House Rentals at The Jump Around, the ultimate addition to any Caldwell event. Our slides are designed to provide safe, exhilarating fun for kids and adults alike, transforming any party into an unforgettable adventure.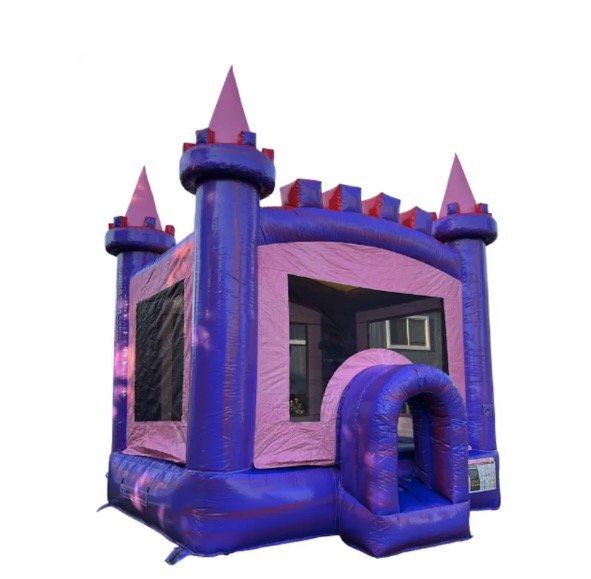 Classical Bounce House Rentals
The Jump Around is your number one choice for classical bounce house rentals in Caldwell, turning any party into a lively and thrilling occasion. Our traditional bounce houses offer endless entertainment, with their vibrant colors, spacious interiors, and superior safety features, ensuring a fun and memorable experience for all ages.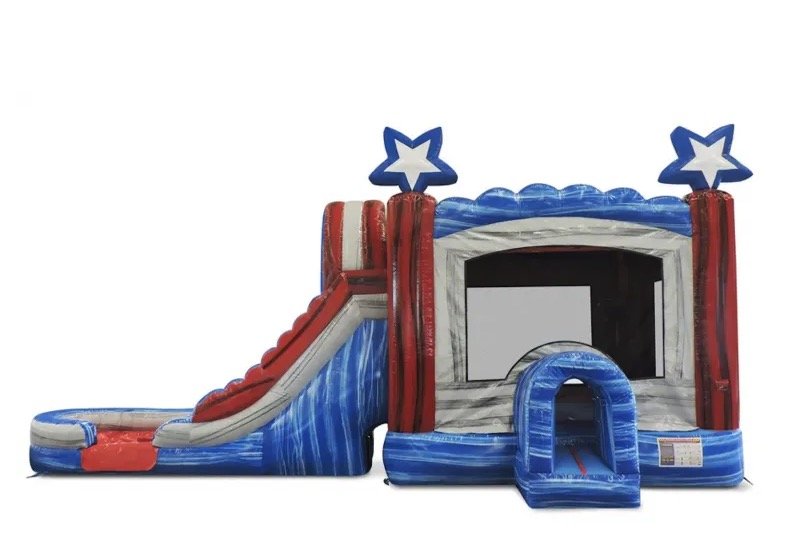 Wet/Dry Bounce House Rentals
At The Jump Around, we also offer wet/dry bounce house rentals in Caldwell, perfect for those scorching summer parties or events. These versatile inflatables can be used as a regular bounce house or transform into a water-filled wonderland, adding an extra layer of excitement and cool relief to your celebration.
The Jump Around: Where Every Caldwell Event Becomes Unforgettable
At The Jump Around, our love for fun and festivities is infectious. We're more than just a rental service – we're an integral part of your celebration, devoted to amplifying the joy and excitement in every event we're a part of. Our wide variety of Caldwell bounce house rentals cater to all ages and events, because we believe everybody should have a chance to feel the thrill of leaping into a world of laughter and enjoyment. From small backyard parties to grand community gatherings, our inflatables add that extra sparkle sure to make your event the talk of the town.
We understand that planning an event can be overwhelming, but with our team by your side, it doesn't have to be. We offer a comprehensive range of services that take care of everything from delivery to setup and takedown, allowing you to focus on the fun. Plus, our friendly team is always ready to help you select the perfect inflatables and party equipment to match your event's theme and needs. With uncompromising attention to detail, we ensure your event is a roaring success from start to finish.
Choosing The Jump Around means choosing a partner dedicated to making your party or event in Caldwell unforgettable. With our bounce house rentals and wide range of party and event rentals, we go the extra mile to ensure your guests are entertained, comfortable, and having a blast! So why go elsewhere when the best in Caldwell is right here? Let's make your next event an absolute hit with The Jump Around. Remember, it's not just a party – it's a Jump Around party!
Reserve Your Perfect Party Companion: Bounce Houses for Every Occasion
No event is too big or too small for a fun-filled bounce house from The Jump Around. We offer a diverse selection of bounce houses in Caldwell, ensuring that there's something for everyone. For the little princesses and superheroes in your life, we have themed bounce houses that will transport them to magical kingdoms or action-packed adventures. For teens and adults, our obstacle course and interactive games bring out the competitive spirit and laughter in everyone. We also offer an assortment of bounce houses for larger events like carnivals, school fairs, and company picnics, guaranteeing endless fun!
Here at The Jump Around, we believe that every event should be personalized and unique. That's why we're always on hand to help you select the perfect bounce house for your event. We'll consider factors such as age range, event size, location, and your specific needs to recommend the ideal inflatable for your occasion. We make the rental process easy with our online booking system, transparent pricing, and flexible scheduling. We're committed to making your Caldwell bounce house rental experience seamless and memorable.
So, are you ready to elevate your next event with a splash of fun? Hassle-free and full of joy, The Jump Around is your destination for the best bounce house rentals in Caldwell. Don't let your next event be just another gathering; make it a day to remember with our vibrant, safe, and exciting inflatables. Contact us today and let us bring the bounce to your celebration!
The Jump Around Service Area
Is your event outside of our listed area? Contact Us below as we frequently deliver to events farther out and sometimes special accommodations can be made.
NOTE: Extra fees may vary depending on how far you are outside our service area.