Experience Unforgettable Fun With Our Amazing Bounce House Rentals In Nampa!
Make Your Party Unforgettable With Our Premium Nampa Bounce House Rentals!
At The Jump Around, we are committed to delivering top-notch party rentals, including the best bounce house rentals in Nampa. As a family-owned and operated business, we understand the joy and excitement that a bounce house can bring to any celebration. We've made it our mission to ensure your party is a hit with kids and adults alike. Let us handle the fun, so you can focus on creating memories! Explore all of the fun party & event rentals we offer in Nampa, ID today!
See What Your Nampa Neighbors Have To Say About Us!
Jennifer Turley
2023-10-09
We had such a great experience with The Jump Around! We h hired them for my daughter's 4th birthday and everything went so smoothly! Their communication was great as they would send text updates regarding when they'd be dropping off and picking up, their bounce house was so clean, and the staff is so nice! Definitely will be hiring them for future events!
Prompt, good communication, reasonable prices. The kids at our event loved the bounce houses!
Karah Armstrong
2023-09-18
Bounce house was clean & staff was friendly. They even delivered our bounce house early with no extra charge. This was my second time renting through them. 😊
MissBobbie Howard
2023-09-18
What a blast!! We have NEVER had a family gathering where all the kids just exhausted themselves having so much fun!! The set up was early and they came when needed to take down. We had a family reunion and couldn't have spent better money!! Thank you so much!!
Ashlee Hope-Sarver
2023-09-12
This company was accommodating from the beginning!! They helped me choose what would work best!! They dropped promptly and before it was due and picked up exactly when they said. They were kind and quick for set up and take down. Hands down the best! We will use them for our lifetime!!
Great local company. On time, professional, clean slides and jump houses and they are very helpful. Simple reservation process.. Definitely will be my go to company for all of our parties.
The Bounce House Slide was a complete hit with the kids. Made for a memorable birthday party for our granddaughter!
Fantastic! The kids had a blast and the Jump Around staff were very professional.
We Are #1 For Party & Event Rentals In Nampa, ID
Select A Category Below & See Everything We Have Available For Your Date!
Choose from Our Wide Variety of Nampa Bounce House Rentals
Are you ready to elevate your party experience? Our expansive range of Nampa bounce house rentals is perfect for any event, big or small. Be it a birthday bash, a community event, or a casual family gathering, our bounce houses promise an exciting and memorable experience that will keep your guests talking! With their vibrant designs and safe construction, our bounce houses are a hit among kids and loved by parents for their high safety standards.
We pride ourselves on offering a wide selection of themes and styles to fit any party theme. From awesome adventure castles to beautiful princess palaces, and everything in between – our bounce houses are designed to delight! We also offer themed bounce houses featuring popular characters, perfect for fans of the latest animated movies or superhero franchises.
At The Jump Around, we don't just rent bounce houses in Nampa, we deliver fun, laughter, and unforgettable experiences. We're all about making your party planning easier, and your celebration, truly extraordinary. So why wait? Let's get the party started with the best bounce house rentals in Nampa!
Unleash The Fun With Our Nampa Bounce Houses!
Our bounce houses at The Jump Around are not just inflatables; they're carefully designed equipment for ultimate fun and safety. Every bounce house we provide is meticulously inspected for safety and cleanliness before each rental. Our commitment to safety and cleanliness is unmatched in the Nampa bounce house rentals market. We understand that parents place a high priority on the safety of their children, so we do too. When you rent from us, you can be assured that your little ones will have a blast in a safe, clean, and well-maintained environment.
In addition to providing top-notch safety and cleanliness, our bounce houses are also designed to boost the fun factor at your party. They're spacious enough to accommodate several children at a time, ensuring no one is left out of the fun. Whether your child prefers a thrilling slide or an enjoyable jump, our bounce houses offer a variety of activities to keep them entertained. Plus, the high-walls and mesh netting allow for easy supervision, so you can relax and enjoy the party while the kids bounce away!
At The Jump Around, we believe in making your party planning as effortless as possible. That's why our Nampa bounce house rentals come with quick, hassle-free setup and breakdown. Our professional and friendly team will handle everything from delivery to setup to teardown, so all you need to do is watch your children's faces light up with joy. It's time to elevate your next Nampa party with our fantastic bounce house rentals!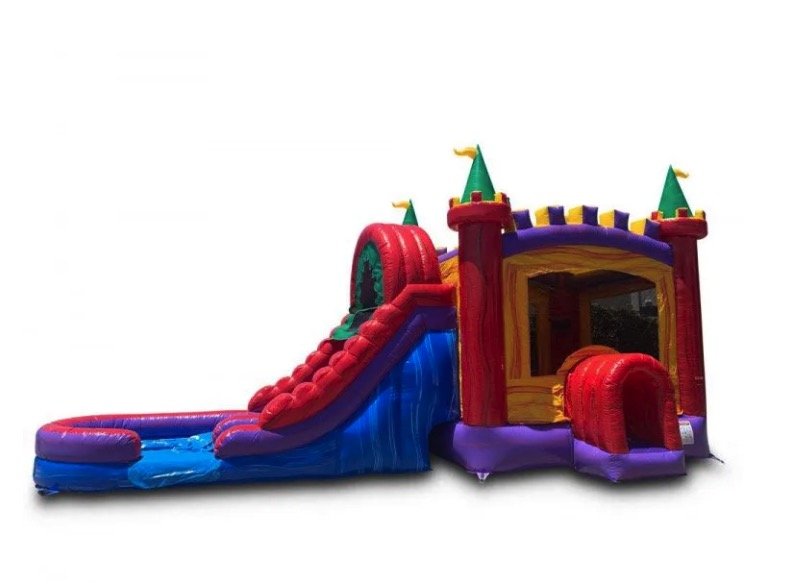 Wet/Dry Bounce House Rentals
Take your party to the next level with our Wet/Dry bounce house rentals, a fantastic choice for those sizzling summer celebrations in Nampa. These versatile inflatables can be used with or without water, offering exhilarating fun under the sun or a cozy jumping haven in cooler weather.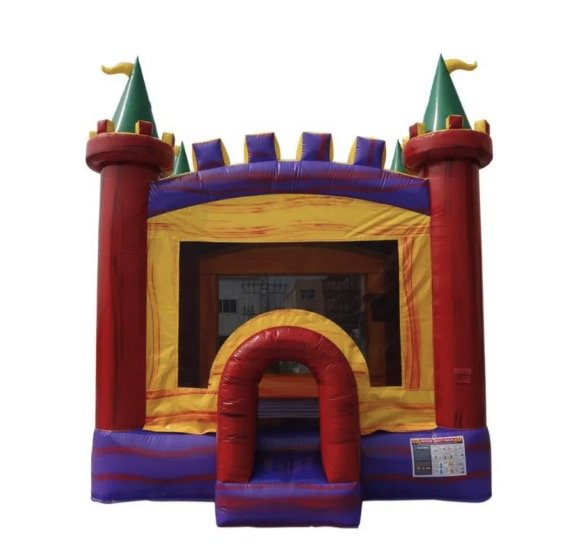 Classical Bounce House Rentals
For those seeking a traditional, timeless party experience, our Classic Bounce House Rentals in Nampa are the perfect choice. These vibrant, spacious inflatables promise endless fun and laughter, making them a staple at any party or gathering for both kids and adults alike.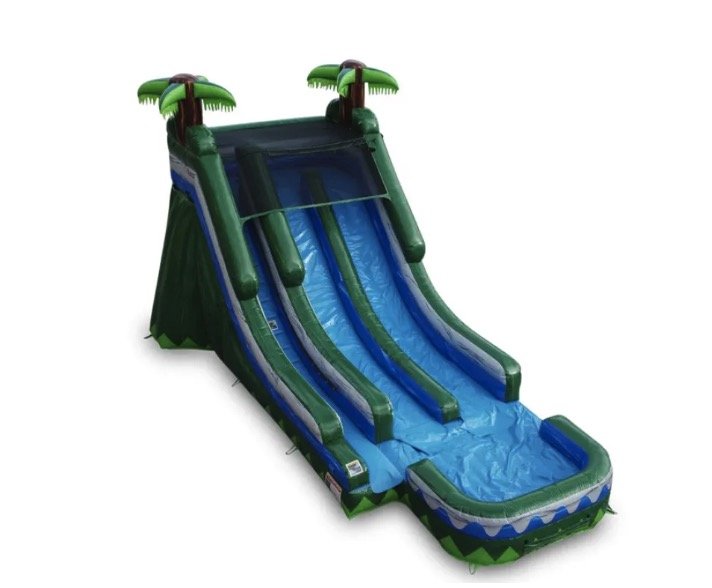 Inflatable Slide Bounce House Rentals
Our Inflatable Slide Bounce House Rentals in Nampa offer the perfect blend of bounce and slide for an unforgettable party experience. Kids will be thrilled with the adrenaline-pumping slide, and the bouncing area offers endless fun, ensuring your event is a hit with every guest.
Set the Fun in Motion with The Jump Around Party Rentals!
The Jump Around is not just a bounce house rental service, we're your one-stop shop for all your party needs. Along with our popular Nampa bounce house rentals, we also offer a vast range of party rentals to add that extra touch of excitement and enjoyment to your events. From fun food machines, tables and chairs, to unique games and party add-ons, we have everything you need to make your party a standout. Experience the magic of a complete party setup without the stress of coordinating with multiple vendors. With The Jump Around, throwing an unforgettable party has never been easier or more convenient.
Our party rentals are perfect for all kinds of events. Be it a school fair, church event, corporate picnic, or a grand birthday bash, we cater to all. And the best part? All our rentals are maintained to the same high standards as our bounce house rentals in Nampa. We ensure every item is clean, safe, and in top-notch condition, ready to add fun and flair to your celebration.
At The Jump Around, we believe that every party is unique, and we strive to provide personalized service to make your event truly special. Our professional team is always ready to assist you in choosing the perfect combination of party rentals to complement your bounce house and match your event theme. With our extensive selection and exceptional service, your perfect party is just a call away. Don't just throw a party, create an unforgettable experience with The Jump Around party rentals.
Finalize Your Event with Our Easy Booking Process.
Reserving your bounce house and party rentals with The Jump Around is a breeze, thanks to our easy and efficient booking process. Simply browse through our extensive range of offerings on our website, choose your preferred bounce house and party add-ons, and proceed to checkout. Enter your event date, time, and location, and we'll ensure everything arrives right on schedule, ready to add excitement and energy to your event.
Need assistance? Our friendly customer service team is always on standby to help you select the best options for your event and answer any questions you may have. Remember, we're more than a Nampa bounce house rentals service; we're your partners in making your event a fantastic success. With The Jump Around, your event planning is stress-free, and your parties are unforgettable. Book with us today and let us put the bounce into your next event!
The Jump Around Service Area
Is your event outside of our listed area? Contact Us below as we frequently deliver to events farther out and sometimes special accommodations can be made.
NOTE: Extra fees may vary depending on how far you are outside our service area.